Posted By:

editor

Comments:

0
The 'A' Cat year traditionally starts with the AUS Nationals and is held right after New Year. It's usually a hotly contended affair with a sprinkling of superstars in attendance.  In a weather disrupted series on Lake Macquarie, which claimed several casualties, Stevie Brewin ruled the waves with 4 bullets on his foiling Exploder A15 and his own boomless sail.  He was only beaten into second place in 3 races, by Adam Beattie (final position 2nd), Nathan Outtridge (11th) and Darren Bundock (3rd) respectively.   48 entered.
Mid February saw the NLZ Nats in New Plymouth.  Dave Shaw, on his Foiling Vision, beat Ed Crook and Thomas Block is a fleet of 12 entries.
March saw the launch of the new DNA F1.  Following on from the release late in 2015 of the Polish Exploder Ad3, both boats were optimized for more stable foiling and have since proved to be easier and to foil earlier.  Since then, both have been proving popular.
Fast forward to May.  After overcoming their problems with the FFV at the last minute, where their national sailing regulator wanted foiling and classic boats split into separate fleets. Thierry Boisbouvier, with the help of Landy lobbied them hard and suddenly they decided to drop their objections. The FRA Nationals went ahead at Quiberon.  It was won by a classic boat sailed by Jean Louis Le Coq with Thibault Laudren and Emmanuel Dode also on the podium.  35 entered.   
This month also saw the SUI Nats on Lake Maccagno.  It was the first outing in anger for the new DNA F1, sailed by Misha Heemskerk.  He scored an impressive 5 straight bullets with Sasha Wallmer and Sandro Caviezel 2nd and 3rd.   49 entered.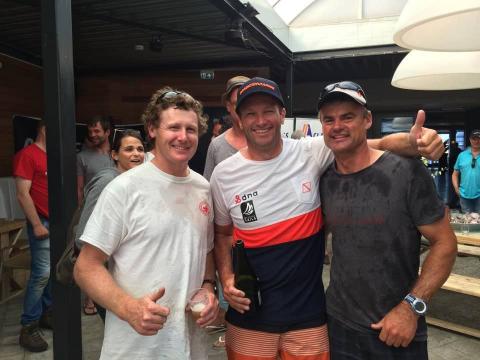 June brought us the World Championships in Medemblik.  Being earlier in the year than usual, a few European fleets struggled to get match fit for the event, as they had only started their seasons 2 months previously and not all could get in winter training.  However, it was won in his usual powerful style by Misha on the DNA F1, who got straight bullets again.  2nd was Stevie Brewin and Bundy was 3rd on their new Exploder Ad3s.  'Mrs Bundy' Carolijn Brouwer was a superb 15th in her first 'A' cat regatta.
At the AGM, we changed Presidents.  Andrew Landenberger stood down, and was concentrating on getting Jason Waterhouse an Olympic Nacra 17 medal.  The former Swiss President Charles Bueche took over the IACA position.  And Belgian Phil Muyzers became Treasurer following Piet Saarburg's retirement.
July goes quiet, but in August it all happens.  Nationals for ITA, POL, NED and AUT.  At Sopot, the POL Nationals, Tymek Bendyk deposedJacek Noetzel from his long held top dog spot to become Champion on his Ad3 is some good racing.  3rd went to 'A' cat GBR rookie, but top Mothmiester Chris Rashley. 16 entered.   At Hellecat, the NED Nationals had one light and one heavy wind day.  Only 3 points separated the top 4 sailors in the end, with PJ Dwarsluis on the DNA F1 just pipping Rutger Krijger, Roeland Wentholt and Emmanuel Dode. 27 entered.    And the ITA Nats was won, in a moderate wind at Porto Corsini, by Giovanni Calabria, with Paulo Penco and Alessandro Rossi following on.  33 entered.
September brought even more championship events.  The ESP Nats at Calafell in a multiclass event, and was won by Mauel Calavria on the Exploder A15, with Gustavo Doreste 2nd and Toni Ballester 3rd.  26 entries.  At Rutland SC, the GBR Nats was won by Chris Rashley on the Ad3, in a masterclass of foiling skill.  Paul Larsen also on the Ad3 was 2nd and Bob Fletcher, on a classic DNA was 3rd. 24 entered. In DEN, Thomas Paasch on his Nikkita was the champion in their Nats, with some good racing in good weather.  Alex Miester and Lars Bunkenberg were also on the podium in a fleet of  18 entries.  In the USA Nats at Newport RI, Matt Struble dominated the fleet of 48 boats.   Lars Gluck and Bob Hodges followed behind in 2nd and 3rd.  And the BEL Nats was won by Phil Muyzers on his classic Flyer at l'Eau d'Heure.  Andre Casanova and Jean Darnaud were also on the podium.  15 entered.
In October, at Stienhunder Meer, at the GER Nationals, Misha was victorious and Tymoteusz Bendyk and Jakub Surowiec fought for 2nd and 3rd places.  Georg Ruetter was 4th taking advantage of one of the light wind days to become the German Champion.
In November, Europeans tend to put the boats away whilst the Southern hemisphere sailors get their out.  USA sailors simply migrate Southwards to Florida and in ARG, whilst not holding a Nationals, several keen sailors such as Sergio Mehl and his friends regularly race on the Rio Plata. 
So, we now look forward again to next year's sailing.   Many have commented on the European weather this year as being either too little or too much, resulting is many of us not getting as much time on the water as we'd like.   But now that the foiling/classic division seems to have stabilized, many associations are running parallel results with few issues about us all racing on one course.  Hull designs seem to have become optimized, so the next development looks like rig changes.  Decksweepers are the norm now on foilers, with classics keeping the fathead sails.  We shall see what the innovators come up with for 2017.   Sopot is in the diary and for the Worlds in August, and for a challenger to try for Misha's crown.  And finally, Piet Saarburg hung up his IACA secretaries pen, passing it onto Bailey White for the interim.  We wish him well!
However, the World events of 2016 may be remembered for their lasting impact; Brexit, Donald Trump, the deaths of David Bowie, Prince, Mohammed Ali, Fidel Castro, to name but a few, all left their mark.  But most of all in our 'A' class world, we were all saddened by the tragic death of our own Murray Philpot back in February.  Perhaps our 2016 should be remembered for him.