Posted By:

editor

Comments:

0
DNA is proud to unveil the new F1x A-cat. In essence, it is a comprehensive update to the original F1 A-cat introduced in the spring of 2016.  Cost - Platform ready to go €25000 +VAT.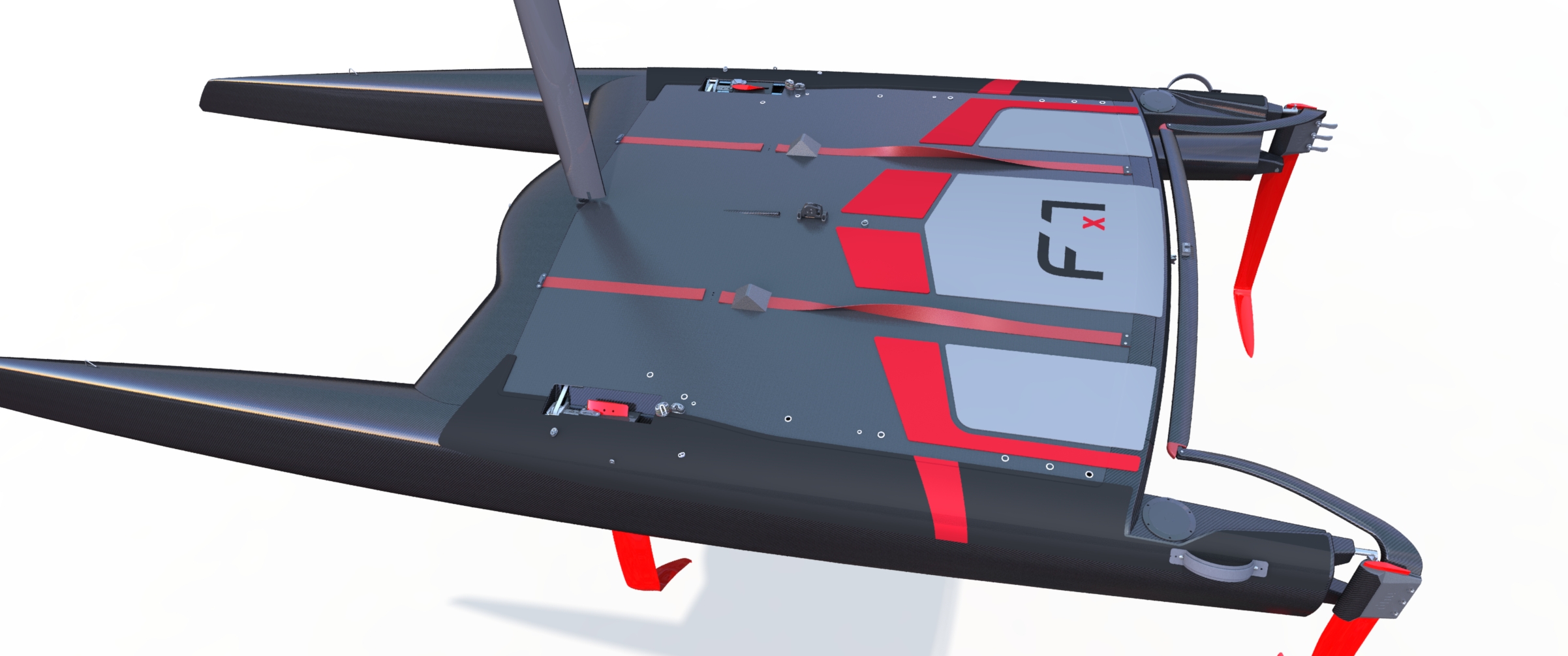 So, two years have passed since the introduction of the F1 and this is the first update. What remains and what has changed? Mischa, PJ and DNA lead engineer Niels went the extra mile. It is still the F1 as you know it, with the same hull shape aimed for light air & floating performance and aero optimization when foiling. But we have changed and added a few go-faster bits – more than just swapping foils alone.. The moulds have been slightly reworked and in short, these are the changes made: 
>> Magic wheel sheeting below deck 
>> Internal traveller system in aft beam  
>> New Z-foil design 
>> Changed Z-foil position and trunk entry with easy rake readout
>> New rudder design 
>> Changed rudder position 
>> Rudder rake adjustment while sailing 
>> Boomless pinhead sail design from Mischa Sails 
>> Larger deck area for crossing  
The F1x´s changes are explained in more detail on the following pages. Sailing images will be provided when the weather clears up – photo sessions have thus far been cancelled due to rain or fog.
Magic wheel sheeting
Located below the semi-rigid carbon trampoline is a clever new wheel sheeting system which replaces the traditional main sheet system. Why a wheel? This allows lesser sheeting loads and gives a much faster response. The sheet rolls on a wheel and is covered to prevent the sheet from falling off in case of a slacked line. It is a very clean system and requires less physical effort, which means lesser chance of mistakes throughout an already exhausting racing day, and the advantage of a quicker response needs no further explanation.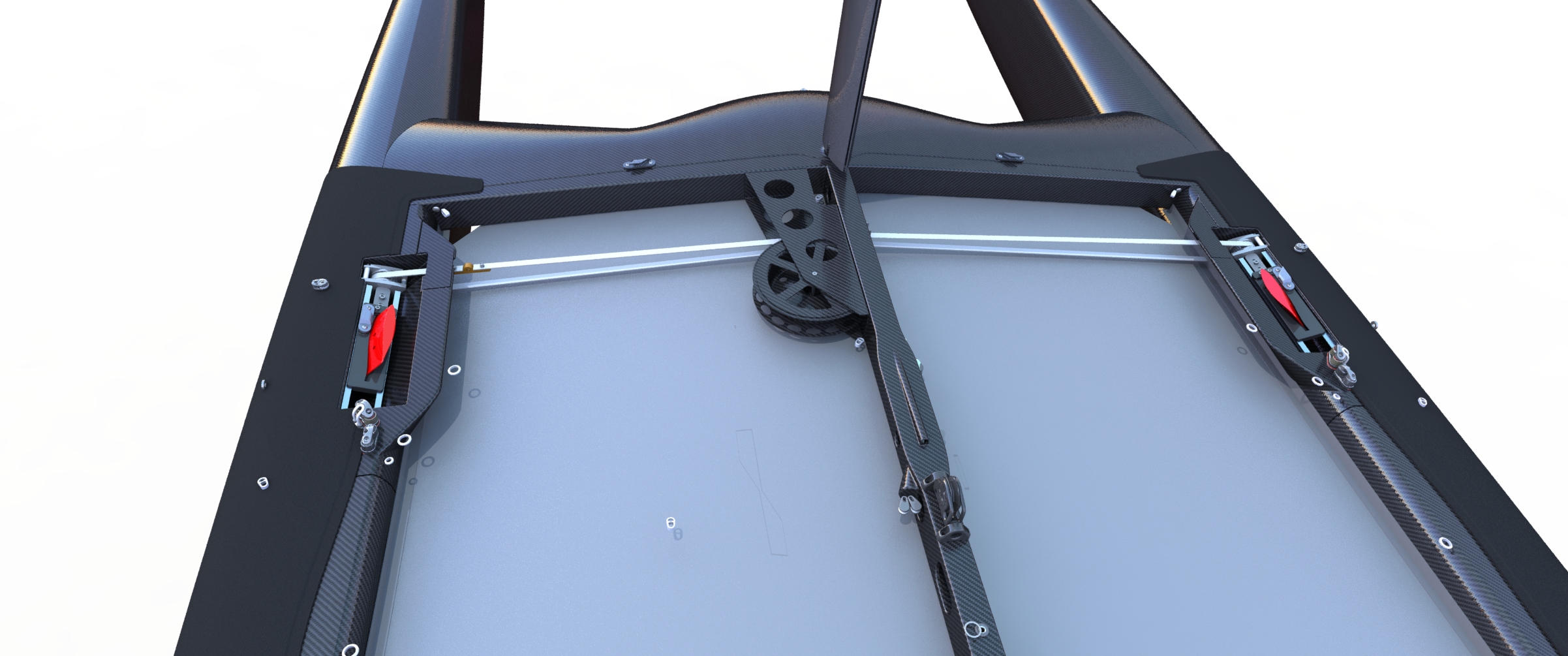 Internal traveller 
The F1's aft beam, which originally featured a nicely recessed traveller track, has been extensively reworked; with the F1x the aft beam features a wholly integrated traveller car inside the carbon beam. There are multiple advantages over a normal traveller track: it weighs less, there is -again- lesser windage, it runs smoother, it is fully optimized for a boomless sail and that sheet is no longer in your way as it fully runs under the trampoline.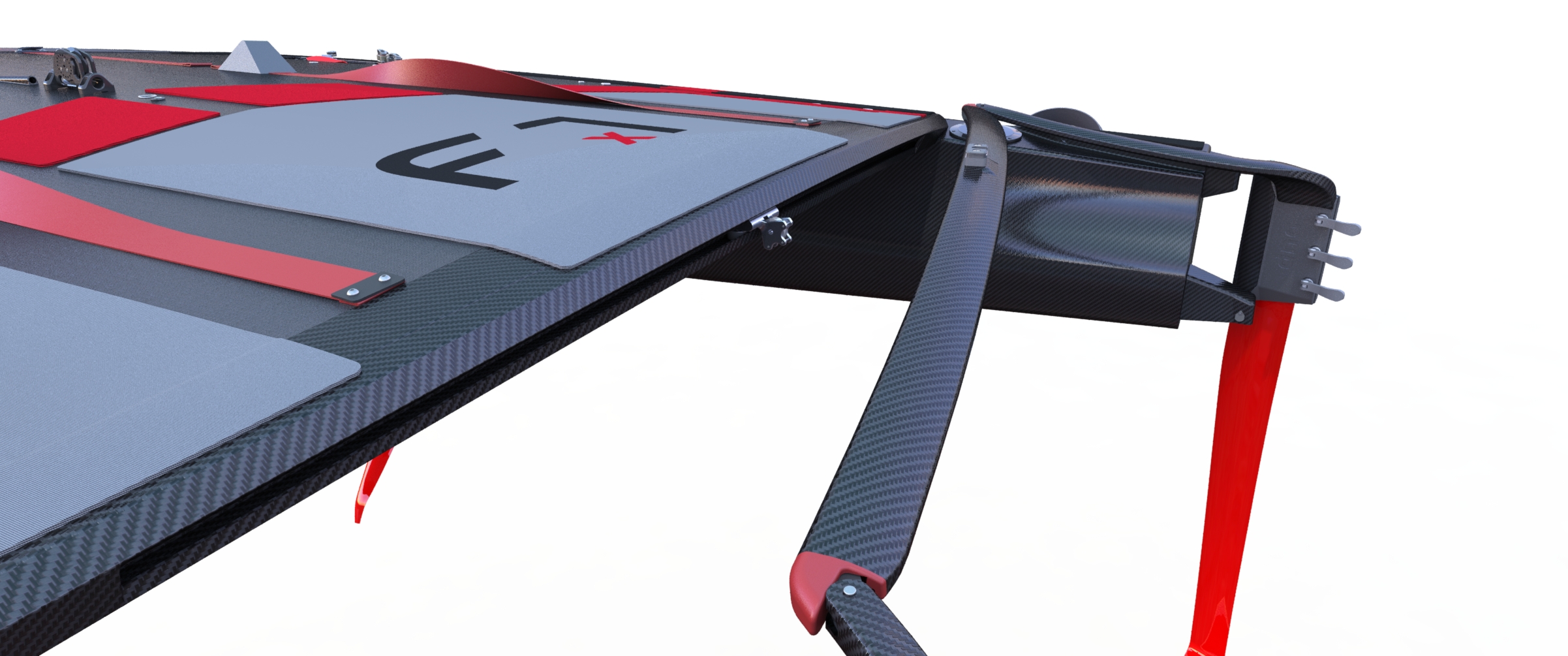 Foils
We have been running a foil improvement program for more than a year now, as we started trying amended foil shapes well ahead of the 2017 Worlds. We found it very hard to make an allround improvement to the original Z-foil design which we developed in 2013 and introduced the following year. We then decided to call for help and have collaborated with Martin Fischer to create the next level in Z-foil design. Martin needs no further introduction we believe, and the good thing is - with most respect- that he is a real performance freak in the best sense of the word. Nothing but the absolute best would do, which meant that reviewing our real world data from testing our modified foil shapes and Martins computational calculations resulted in more than a dozen new shapes. Each was reviewed until, after months, we arrived at the final new shape. 
The one goal throughout foil development has been very straightforward; to make foiling easier overall and to achieve more flying time (upwind). This should ease foiling in rougher conditions which ultimately results in higher average speeds around the course, and secondly it makes entrance into the class for newbies easier too. We started off by saying that we would be happy to sacrifice some top end speed for a more forgiving design – however the foil professor came up with a design that is easier to foil, more forgiving overall AND has a higher top end. We expect to break the 30 knots speed barrier pretty soon, so as the season progresses and we learn more, it will be fun doing some new speed runs versus the MOTH's again.   

When you look at the pictures, you will note more curves in the daggerboards. The Z-foils are fully class compliant and have been positioned slightly further forward. The foil has a higher aspect ratio and features some pretty 'kinky' intelligent stuff, featuring various profiles throughout the design.  
The rudders are a new design too. They are now positioned slightly canted, and the winglet is canted even further for additional heave stability. We maintain using L-rudders (so no T-rudders); these could be placed further outwards and are then not in the wake of the daggerboards providing a better steer and more efficient lift. The new rudders are located further aft to create a larger span, which aids control when foiling generally and eases upwind foiling specifically. 
In our opinion, L-rudders are the optimal rudder for performance and a positive side effect is that it is easy to shake off weed while sailing. Weed is pretty common in Dutch summers and we just do not want to make a full stop when you feel some weed dragging – just pop a hull, shake it loose and off you go again [at warp speed]. Small matter it may be, but details do matter.
Foil rake 
With the new F1x, the rake of both daggerboards and rudders can be adjusted while sailing. Last year, Mischa trialed various prototype rudder rake systems for convenience and durability and we have now come up with a well working, lightweight and clean solution.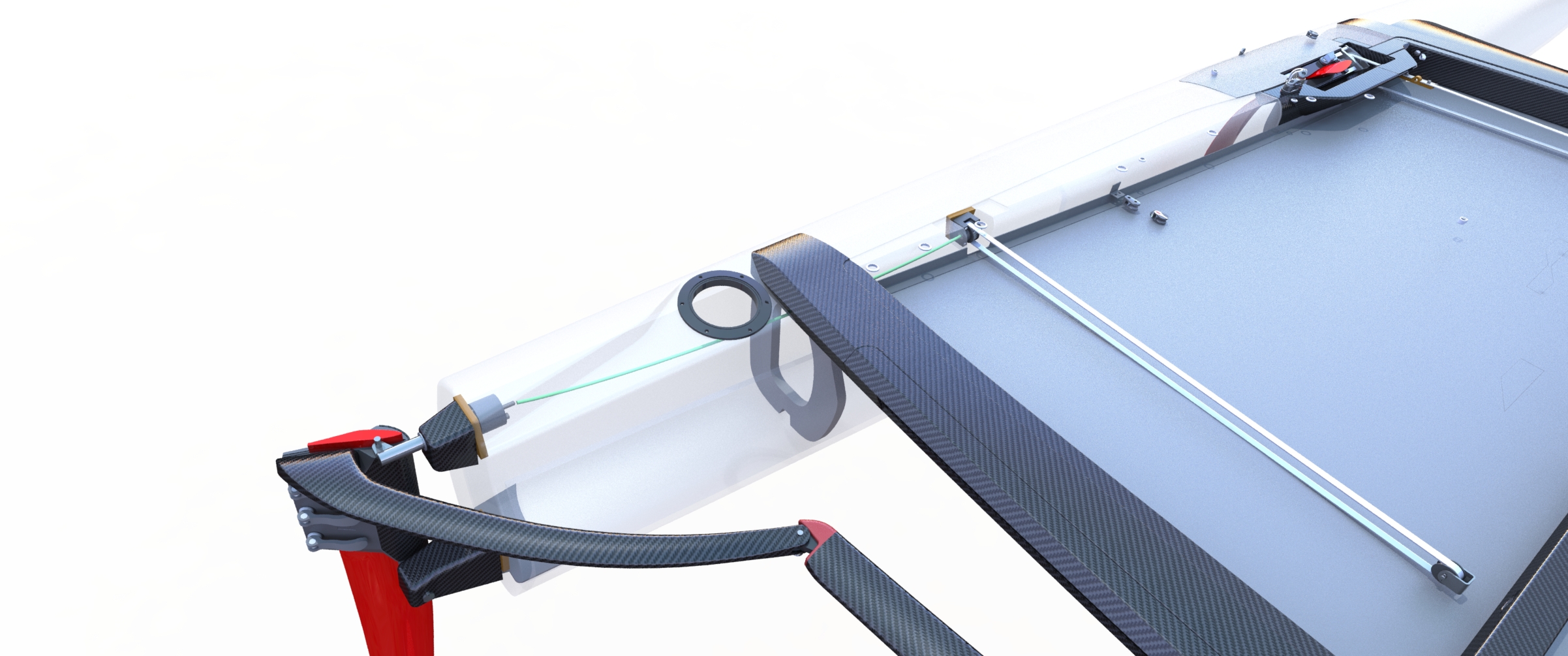 Although the rudder rake is synchronized as standard, the rudder rake system has already been separated in a port and starboard system to -eventually- offer rake differential at the rudders. Customer boats will not feature this ex-factory as yet, although DNA team riders will feature such to test the structural integrity of the various masts currently available during the 2018 season. Rudder differential will increase righting moment and thus speed, however loads on the rig go up too and we do not want to see customer masts failing.
Rudder feeling 
Achieving a light, direct and balanced feel on the rudder is a DNA trademark and has been a high priority for years, and it has now improved even further. It is balanced such that the pressure on the helm slightly increases when foiling high, providing more feedback and control. 
Sail changes 
DNA successfully introduced the decksweeper sail setup with a wishbone boom. Initially, we were skeptical about a boomless decksweeper sail, however with the latest pinhead sail designs from Mischa Sails and our new traveler setup we no longer require a boom to achieve the best performance. This saves weight and costs. 
Retrofitting 
Changes between the F1 and F1x are few, but are nonetheless significant due to a few changes in the platform. Retrofitting new features as rudder rake adjustment, the internal beam traveler and the magic wheel sheeting would involve a mighty lot of work. Due to the changed positioning and shape, the F1x Z-foils will not fit in the 2016-2017 F1 daggerboard cases – however, with ample interest from existing F1 A-cat customers, we will create a new Z-foil which takes lessons learned from the updated F1x, and make that suitable for use in the F1 without any platform modification whatsoever.   
The new F1x L-rudders can be used in the original F1 rudder cassettes, requiring just some sanding for a snug fit.
Overall 
We hope to deliver in our quest for improved handling, more speed and more control while going fast while maintaining good looks. The last bit of good news is that we have been able to lose some weight – total weights are very close to the magic 75 kg again. 
We remain affirmed in our belief that customers should be able to sail, foil and race within 30 minutes after taking delivery of their A-cat. Each DNA F1x comes fully prepared and tuned (tuned to Mischa spec) so you can go sailing straight away. Due to the added complexities, the platform cost has gone up to €25000 excluding taxes.
We hope you like it – let us know your comments at info@DNAperformancesailing.com please! 
Renderings rights free for editorial use with credit: ©DNA performance sailing
Full specs on the F1x A-cat as well as other DNA performance sailing products: www.DNAperformancesailing.com
For media or sales information, contact: Thijs van Riemsdijk, info@DNAperformancesailing.com, tel +31 320 281877
Sign up for the DNA newsletter: www.DNAperformancesailing.com