editor
Mon, 09/26/2022 - 18:38
North American Championship 2022, Day 3
Day 3 will be remembered as something very different from the rest of the regatta. A cold front came through, which tore down the regatta tent in one storm cell and lowered temps by more than 20 degrees (for those still on the imperial system). Summer ran away and Fall stood up with authority. Sailors geared up with multiple layers and then huffed and puffed while launching and doing basic manoeuvres, most of them convinced that their thicker wetsuits had somehow shrunk over their bellies since last winter….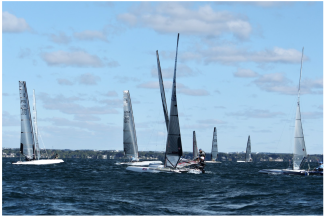 editor
Sat, 09/24/2022 - 18:37
This day the wind shifted slightly to the north, necessitating moving the course to the southern corner of this side of the lake. The wind was more lake-like today with large changes in pressure.
Race two started in seventeen knots but dropped down to four knots on the next leg. The race committee showed good patience and diligence in what sometimes was a trying day. The goal of the day was to get four races and four races we got, with the last finishing in steady medium breeze with the majority of the foilers sustaining flight.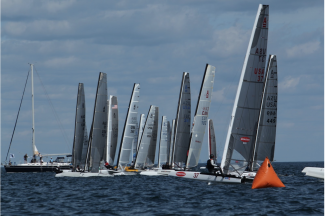 editor
Fri, 09/23/2022 - 08:14
North American Championship Burlington Ontario